About Eburon
Eburon has been providing integrated solutions for fine chemicals since 1995. The complete team of scientists and experts has a full grasp on the design, the development, and the production. Do you want to work with a reliable custom synthesis and contract research and manufacturing partner?
We grow with our customers from gram to multi-ton.
Since 1995
Today, Eburon delivers over 500 fine chemical products to over 500 customers in various industries.
We want to present our history to you.
| | |
| --- | --- |
| 1995 | Eburon Belgium is founded and starts selling high-quality chemical products based on thorough academic knowledge. |
| 2002 | Eburon expands, goes international, and also opens a business location in India. |
| 2003 | Eburon starts small-scale production in its first production plant in Vapi, India. This plant focuses on research and development. |
| 2008 | Technological developments and thorough research lead to to an increased capacity of the production plant in Vapi. |
| 2015 | The production of fine chemicals is a success. Eburon expands its operations and establishes a new plant at a new location: Sarigam in India. |
| 2017 | The second Eburon production plant is in full swing and produces on a grand scale. |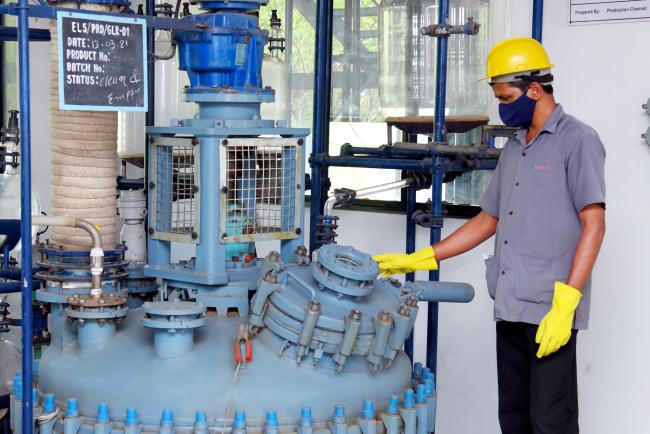 Focus on quality and safety
Quality is paramount at Eburon. We meet important quality requirements and standards, such as ISO 9001.
Eburon strives for the appropriate level of compliance at every project stage, from laboratory-
scale development to full-scale commercial manufacturing. We will continue investing in high-quality operations and take the measures necessary for the cGMP certificate.
Focus on environmentally friendly entrepreneurship
Besides quality, Eburon values safety and the environment. Thanks to the ISO-14001 certificate, we limit our environmental impact and meet numerous imposed environmental regulations. We also strive to reduce our waste every day thanks to a sophisticated water management system.
Social commitment
Our team of scientists and experts are the beating heart of Eburon. We value proper work conditions
and room for dialogue. Mutual appreciation is the foundation of our success.